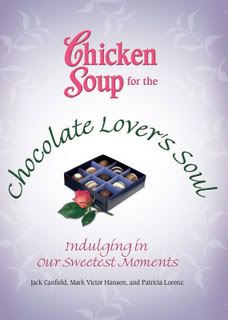 Chicken Soup for the Chocolate Lover's Soul should have hit the stands today. What fun to be included in this book. I have to admit I've been trying for years to get accepted into a Chicken Soup book. Being the analyzer that I am, I've taken a hard look at my submissions that were rejected(ignored)and this one that was accepted and here's what I've come up with: my other submissions were painstakingly
constructed
. With this submission I sat down, whipped it out and sent it on its way. The difference I believe is that The Dud in White was written from the heart and with passion. Too bad I can't sit down and whip out my novels in one passionate moment.
Do you think we sometimes edit the passion out of our books and stories?
If you get a chance, pick up a copy of
Chicken Soup for the Chocolate Lover's Soul
and read my story.