I love used book stores. Yes, authors cringe at the thought of their books ending up in one. We tell ourselves if a person finds one of our books at Ula's Used Reads, they'll rush to B&N or other great chain stores to buy everything else we've written. Sometimes that's true. I admit, I've done it--but only if the author is fantastic. Just like everyone else, I wish we got royalties from libraries and used book stores, but that's not going to happen any time soon. So let me tell you about a great 'used' book store I frequent.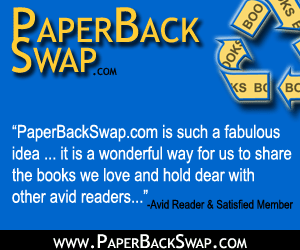 Books are flying into bookstores at record speed, and honestly, I can't afford to keep up with my favorite authors. I stood in WaldenBooks the other day trying to decide whether to purchase a favorite author's latest or go to the grocery store where I was
supposed
to be. I used good sense
this
time. I put the book back on the shelf, telling myself I'd get it another day.
During the evening, I decided to check PaperBackSwap to see if the book was listed. I had little hope because it just came out last month. But guess what-- it
was
there. A brand-new--or really a once-read-- book by my favorite author waited for me to click the
order
button. And I couldn't click fast enough. :)
I can't sing the praises of PaperBackSwap loudly enough. Go to their
website
and read carefully. You have to be responsible. When you list books to swap and someone requests one, you commit to mailing it as soon as you can. Don't leave your 'customer' hanging.
PaperBackSwap
is a wonderful group of readers who share books with each other (NOT just paperbacks) for nothing more than the cost of postage! Click
here
to find out how to join and swap your books. You won't regret it--I guarantee.