I went to a funeral last week. A very special writer friend/critique partner passed away. We used to sit around Lela's kitchen table--western/mystery writer Kent Conwell, novelist/travel writer Rogayle Franklin and me--munch popcorn and read each other's work. (Through the years, other writers came and went: Jane, Alice, Lauren and Chaney). We'd pass our chapters from right to left, writing comments in different colored ink. Every now and then, Lela would break the silence with, "Kent, I think this is the best thing you've ever written." She'd say it with such conviction we'd have no doubt it was Kent's best work. And then she'd say almost the same to us. Lela really meant what she said to each of us. There wasn't anything phony about her. We believed her, because Lela never lied.
Things I heard at the funeral:
"Lela was always upbeat."
"Lela was never in a rotten mood."
"Lela knew how to make people feel good."
"Lela was gracious, kind, never said anything bad about anyone."
It stands to reason that if everyone says the same thing, then it's true. Isn't that what they tell us about our contest entries? If more than one judge makes the same comment, then we need to take that comment to heart?
Lela was a genunine Southern lady, and a very good writer. She never seemed to get discouraged. She joyfully plugged away, writing, winning and placing in contests, and encouraging the rest of us. Maybe such contentment and professionalism came from being a successful journalist, interviewing handsome stars like Rock Hudson. She rubbed shoulders with the beautiful people. In her very special way, she was one of them.
I loved listening to Lela's writing and interviewing experiences, and seeing the yellowed newspaper clippings of her standing beside someone famous. She told me about interviewing one of the most beautiful women in the world. They were sitting at a table talking and Lela happened to look down at the woman's sandaled feet.
"That beautiful woman had the ugliest feet I've ever seen," Lela whispered to me. I can still hear the amazement in her voice. :)
I can't begin to describe the heaviness in my heart at losing this dear friend. Much to my surprise, her obit stated she was 86 years old. Not the Lela I knew. She was young and giggly and filled with dreams. She wanted everyone around her to be as happy as she was. She proved that by requesting we all leave the funeral home and grab a helium balloon on her behalf. They were waiting at the door for us: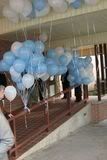 And then we set them free with smiles on our faces. See the beginning of many as they floated into the sky.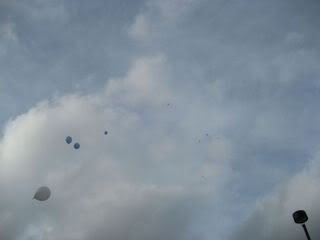 I saw Lela a few months ago. I hugged her goodbye when I left her home, not knowing it would be my last time to see her. I can't remember if I told her I loved her. I never told her that out of all the fine ladies I know, she's the one I'd choose to be like. How does one become soft-spoken, kind, positive, continously happy and content? Maybe I should have asked her
those
questions instead of some of the writer-related questions I asked.
This is my friend. She was beautiful inside and out.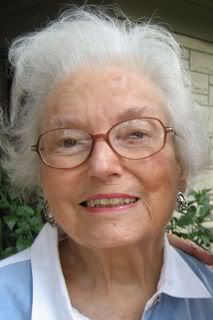 July 2, 1921 - November 24, 2007
This scripture reminds me of Lela.
Love is patient, love is kind. It does not envy, it does not boast, it is not proud. It is not rude, it is not self-seeking, it is not easily angered, it keeps no record of wrongs. Love does not delight in evil but rejoices with the truth. It always protects, always trusts, always hopes, always perseveres.
~1 Corinthians 13:4-7